Canberra's Premier Live Music Venue
Supporting Live Music since 1985
Canberra's Premier Live Music Venue
Supporting Live Music since 1985
About The Basement Canberra
Welcome to The Basement, Canberra's Home of Live Music.
The Basement is one of Canberra's premier live music venues located in the heart of Belconnen.
We cater for all types of music genres from Hip Hop to Rock to Black Metal and everything in between. With over 30 local, interstate and international acts every month we can arguably be considered a Canberra institution, promoting local talent and providing a community space for creativity and expression.
We have been supporting the Canberra music scene for well over ten years, with the venue itself in operation since 1985.
The venue has been entirely refurbished and has a total capacity of 650. We have three stages, four bars, four pool tables and seven pinball machines. We also have a fully functioning kitchen.
Our bars boast a huge range of local, national and international liquor & beers.
There is a parking lot and street parking available and we're conveniently located only 100 meters from the Belconnen bus interchange.
4 x EV ETX35P FOH, 5 x EV ETX15P monitors and 4 x EV ETX18SP subs (cardioid mode)
Sennheiser microphone kit – 2 x e901 kick, 2 x e602 kick, 5 x e904 toms/snare bottom, 2 x e906 guitars, 2 x e914 overheads, 3 x e945 Vox
DI – DUQL active DI box Klark Technik, 2 x Berringer DI
Lighting – 6 x Martin MH5 movers, 14 x Quality LED par cans, 2 x Strobe, 2 x LED quad Blaster, 4 x LED strip (rear curtain warmers) with Clarity software controller, Martin 2500 hazer
Capacity of 550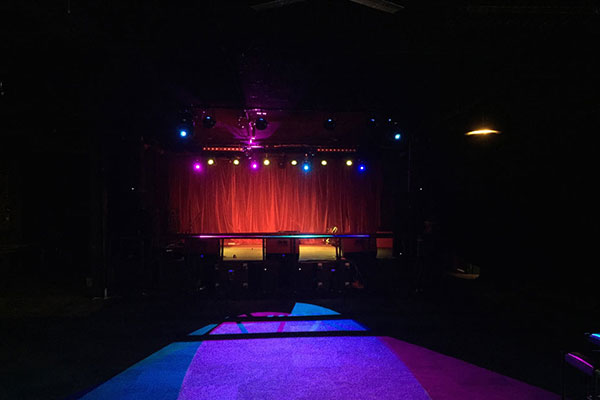 2 x EV ETX35P Front of house, 2 x twin 18" passive subs, 2 x active MSR400 fold back, 2 by Yamaha passive fold back
Audix D7 drum mics, 3 x SM57, 3 x SM58beta
Quality LED par cans and LED strip colour changers with controller
Capacity of 140